CHIROPRACTIC in Bellevue?

Your Bellevue chiropractor offers a non-invasive approach to whole-body health for individuals of any age, chiropractic care is a natural and holistic practice that offers a non-narcotic approach to healing the individual. We offer multiple modalities and various aspects of treatments to customize plans for each patient, no matter their size, shape, or age.
---
ADJUSTMENTS: CHIROPRACTIC CARE FOR ALL AGES in Bellevue
We provide advanced spinal correction utilizing "state of the art" chiropractic techniques. Never in the history of chiropractic have we been able to provide the level of help and expertise that now exists. These newer correction methods are even safer, more comfortable and more effective than ever before. Our doctors have years of training and experience in spinal adjustments.
---
"90% of the stimulation and nutrition to the brain is generated by the movement of the spine."
-Dr. Roger Sperry, Nobel Prize Recipient
---
CHIROPRACTIC FOR SENIORS
We find that seniors thrive with chiropractic care. It helps keep bodies in touch with fluid movement and it is one of the safest and most effective forms of care for the elderly. We offer gentle treatments for those that may be more osteoporotic, along with new devices and technology that can offer relief, even after years of symptoms. We will never tell you, "you are too old, you are just going to have to live with that…"
---
CHIROPRACTIC FOR CHILDREN
Offering your child chiropractic treatment is an affordable and effective plan of care that treats health conditions such as musculoskeletal, and nervous system issues. The International Chiropractic Pediatric Association (ICPA) recently released research that found spinal manipulation therapies a safe and successful way to treat children of all ages; this is critical in times of spinal and nervous system growth. It has also been shown to improve sleeping, behavior, and attitude, as well as improve immune system function.
---
CHIROPRACTIC FOR ADULTS
While adults make the majority of chiropractic care patients, we treat a variety of health problems through this holistic approach to healing the body with proper alignment. We can even help expectant mothers through their pregnancies and after birth, easing the stress on the body throughout this time of growth and major physical change and adjustment. Whether you are a truck driver, an athlete, or a business professional, we can help you #GetHealthy and #FeelBetter. Ask us about ergonomics and our 100-year lifestyle planning.
---
"While other professions may be concerned about changing the environment to suit the weakened body, chiropractic is concerned with strengthening the body to suit the environment."
-BJ Palmer, DC (One of the founders of chiropractic)
---
CONDITIONS TREATED
Allergies & Sinus Issues
Arthritis & Fibromyalgia
Back Pain
Foot & Ankle Pain
Headaches
Jaw Pain
Knee, Hip & Shoulder Pain
Neck Pain
Sciatica
Pregnancy-Related Back Pain
CHIROPRACTIC TECHNIQUES
Thompson Drop
Cox Flexion Distraction
Gonstead
Diversified
Activator
Toggle
THERAPIES
Electric Muscle Stimulation Therapy
Ultrasound Therapy
Combination Therapy
Personalized Exercise Therapy
Decompression Therapy
Low-Level Laser Light Therapy
Other Soft Tissue Therapies
Dry Needling
---
X-RAY
Technology has come a long way from traditional x-ray with film and view boxes!  Dixon Center now offers new and improved digital x-rays, which allow our chiropractors to zoom, rotate, and control image density and the results are available on-screen within seconds for our doctors to analyze.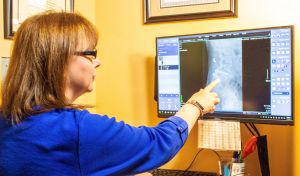 OFFICE HOURS
---
Monday
9:00am - 6:00pm

---
Tuesday
9:00am - 6:00pm
---
Wednesday
9:00am - 6:00pm
---
Thursday
9:00am - 6:00pm
---
Friday
9:00am - 12:00pm
---
Saturday & Sunday
Closed